WELCOME ABOARD
Welcome to the AMARSE Website.
Last revised on:
02/08/2011
Travel with us as you learn about the nautical adventures aboard the trawler AMARSE. We think you will find some interesting and entertaining information on every page of each section. Come along and share with us and learn about the crew, the boat, the plan, and enjoy the trip logs and sea tales of our journey.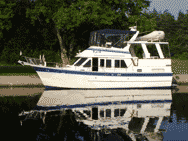 By clicking on the buttons located in the left column, you will be directed to the appropriate section of your choosing.

AMARSE.NET © 2006 2007 2008 2009 2010 2011